Modern Boho Classroom Decor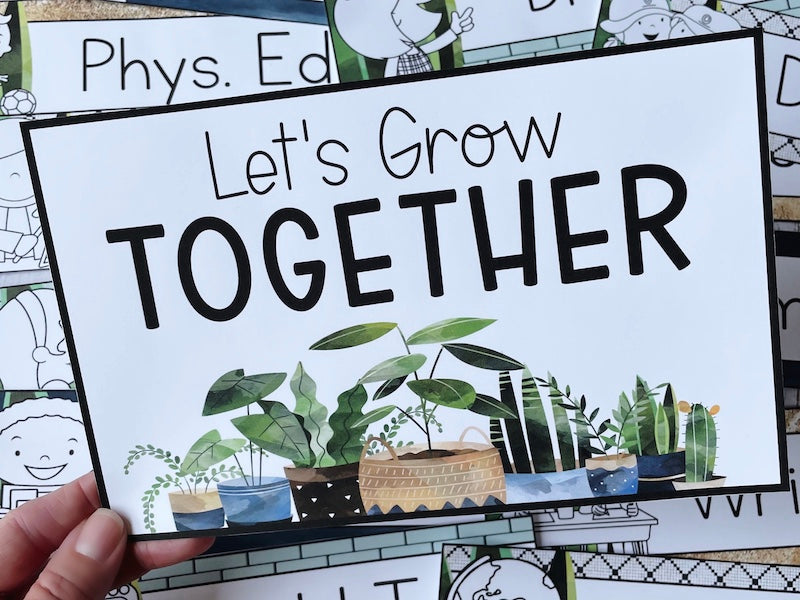 Inspire your students to Grow Together with this classroom decor bundle!
The Modern Boho collection will transform your classroom into a calm and inviting space that will make everyone feel at home.
It is a unique collection with a blend of tile patterns, navy watercolor and pops of warm gold.
Add beautiful houseplants to this backdrop and you have the Modern Boho Classroom Collection! 
Classroom Door Decor
Your classroom door is the first thing students see each day so let's set the tone with the Modern Boho door decor.
These editable posters and name cards create a welcoming and personalized classroom door.
Daily Schedule Cards
These classroom visual schedule cards with graphics make it easy for little learners to follow along.
All text is editable and cards without graphics are included so it can be customized to work for older students too!
Classroom Calendar
The Modern Boho calendar set is PACKED with everything you need to customize your classroom calendar set up.
From a printable calendar to weather cards to 10 frames to track days in school, it's all here! Choose from primary or whimsical fonts.
Days of Week cards
Months of Year cards
Year cards
Calendar numbers
Holiday cards
Pop-up holiday cards
Season Chart
Weather Chart
Days in School Chart
Printable calendar
10 Frames
Large Title cards
Classroom Alphabet Posters
Choose from alphabet posters with graphics, letters only or an alphabet line with primary lines.
There are 2 graphic options for each letter so you can mix & match to create your perfect classroom alphabet!
Printing Tip
Print 2 posters per page to save precious space!
The letters are bold so they can easily be seen from a distance.
Posters also available with cursive font including a cursive and print combination set. 
Classroom Color Posters & Pennants
Color posters are a must have in primary classrooms!
Your little ones will reference them regularly when learning to write.
Choose from 2 full-page poster designs.
With space at a premium, the color pennants will be your BFF! 
Classroom Shape Posters
2D and 3D shape posters are included in 2 designs.
Space-saver cards are an option if you're working with limited space or want to create a bulletin board display.
Number Posters & Number Line
Choose from 3 number poster designs including 2 styles with 10 frames:
Numbers 0 – 30
Number Line 0 – 120
100 & 120 Charts
More than just number posters!
Print multiple posters on a page to create cards for centers or pocket chart activities.
Make your number line interactive with the mystery cards!
Teacher Organization
Keep your teaching and classroom supplies organized in style with these teacher favorites!
Teacher Toolbox
Give your teacher toolbox a refresh with the Modern Boho editable toolbox labels.
Rolling Cart Labels
With endless uses around the classroom, rolling carts are a classroom essential.
Whether you have a 5, 10 or 12 drawer cart, these Modern Boho editable labels will transform your cart!

Binder Covers and Spines
These bestselling binder covers will make organizing your resources a breeze.
The Binder Organization post will guide you through using these gorgeous binders to keep your classroom life in order!
Bulletin Board Setup
Add the finishing touches to your classroom displays with borders & pennants.
Decorative Pennants
Printable Bulletin Board Borders
No more worries about finding the right color match for your decor or running out of borders just as you're about to finish setting up a bulletin board!
These printable Modern Boho borders add the perfect finishing touch for your classroom displays.
Classroom BUNDLE Bonus Resources
Here's a peek at some of the extra goodies that are included with the Modern Boho Classroom BUNDLE! 
Editable Hand Signals
Encourage independence and limit interruptions with hand signals.
Your students can easily communicate what they need by learning a few simple hand signals.
With 9 different signals and easy editing in the PDF file, you'll have them ready to go in minutes!
Table Signs
Classroom Labels
The secret to an organized classroom? Everything needs a home AND a label!
Classroom Supply Labels with Graphics
When students can easily locate and put away items, it saves you TONS of time and encourages independence.
Labels with clear visuals are a must for the little ones!
CHOOSE FROM 72 DIFFERENT LABELS WITH GRAPHICS.
Editable Book Bin Labels
And so much more...
Decorative Pennants
Sterilite Drawer Labels
Classroom Promises
Table Signs
Tooth Tally Chart
Birthday Display
Clock Numbers
Dismissal Chart
Voice Level Chart
Small Number Pennants
Editable Labels & Posters
Let's get Started!
Open the door to your new Modern Boho classroom...
Shop the collection here or click below to grab the bundle and say hello to your new gorgeous classroom!