Calm & Cozy Classroom Decor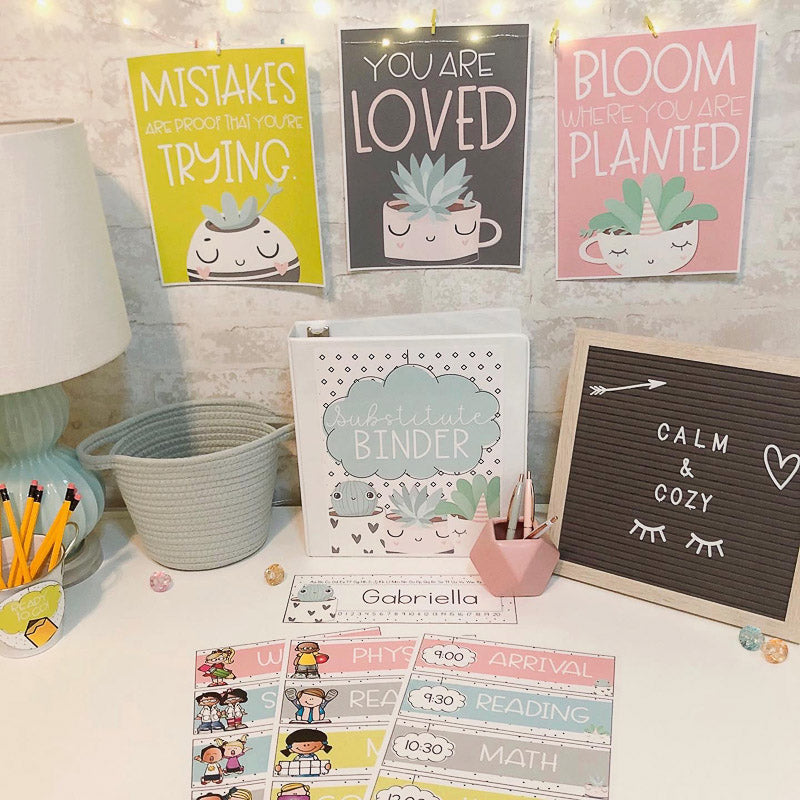 Exciting things are coming for the Calm & Cozy Classroom Decor Collection!
To celebrate the 5 Year Anniversary of this sweet collection, there will be a major design update.
If you already own the bundle, stay tuned as you'll be able to download all the new goodies!
Let's take a look at the original collection:
Bulletin Board Setup
The Loop de Loop and Blush Scallops borders were part of the inspiration for this decor.
Paired with the soft blue fabric on the bulletin board, it creates a calming backdrop.
The links for these borders can be found on the Classroom Finds page. 
If you haven't tried fabric instead of paper on your boards, I highly recommend it!
It's durable, doesn't wrinkle in humid weather, and you hardly notice the staple marks on it.
One of my teacher friends even took hers down, washed it, and put it back up!
Bed sheets are a great option since you can find deals and tons of color/pattern options.
Classroom Organization
The Calm & Cozy Decor Collection is packed with everything you need to organize your classroom!
Rolling Cart Labels
As one of the best classroom organization tools, these carts can be used for just about anything.
Choose from 2 designs: gray & white patterns or solid pastels.
Teacher Toolbox Labels
Create customized labels for your teacher toolbox with 2 sizes of the editable drawer labels.
Teacher Binder Organization
From lesson plans to substitute plans, the editable binders will help you keep it all organized!
The monthly theme binders with quotes will make you smile each time you reach for them.
Classroom Calendar
Setting up your classroom calendar wall will be easy with the Calendar Kit!
All pieces are included in both primary fonts & whimsical fonts and there are lots of options.
The cards fit in most standard calendar pocket charts but you can also set up your calendar on a bulletin board or whiteboard.
This calendar was set up using a whiteboard, string and clothespins and the steps are explained in our Classroom Calendar DIY tutorial.
Smaller pennants are perfect when you are working with limited space! 
Classroom Jobs
Anyone else struggle with setting up classroom jobs?! I sure have.
After much trial and error, I realized that using numbers saved a lot of time during the busy classroom-setup each year.
You can use the numbers over and over so the display can basically stay the same each year. Woohoo!
  
The classroom job cards with pictures are perfect for little learners who are still learning to read.
If you have 2 classes, use two different number colors. I love using a tin plaque because you can store numbers on the back.
Because numbers can feel impersonal, I made it a little more fun by giving them their numbers through a Superhero Reveal :)
Editable Desk Tags
Save time setting up your student desk name tags. The fonts are embedded in the PDF file so you can just type & print!
Inspirational Posters
These Classroom Promises and Inspirational Posters are both included in the Bundle Bonus File and will brighten your classroom walls.
Framing classroom rules and expectations as Classroom Promises can encourage students to be active participants in creating classroom culture.
They're editable so you can create them as a class to make them meaningful.
Inspirational messages displayed around the classroom help create a positive learning space.
Ready to transform your classroom? Click below to see the Calm & Cozy Bundle!